14 Types of Sliding Glass Door Locks – Pick Wisely!
Sliding glass doors are an excellent addition to most households, but their fragility makes them dangerous. Thieves may attempt to break in; children could try to head outside, animals might sneak it, etc. Luckily, there are different types of sliding glass door locks that will help you keep your house safe.
I've gathered 14 types of door locks that can make sliding glass doors almost impenetrable. Some of the locks only work from the inside, while others are easy to use from the inside and outside the house. Plus, some locks are easier to install and require less work or DIY skills.
Each lock type has its unique difficulty and convenience level. Learn the pros and cons, and you'll find the most suitable for your sliding glass door.
1. Double Bolt Lock
This type of lock doesn't come with the door, but it's an aftermarket solution to keep it locked. A double bolt lock prevents anyone from lifting the sliding glass door out of the tracks, and it also resists prying attempts. Another reason to use this lock type is that it works as a child safety lock too.
The installation is super easy for DIYers, and there are many models available to fit any door regardless of its size. Some feature a plastic build, which is inexpensive but may break after a year or under enough pressure. LOCKiT provides metal-made double-bolt locks, which are far more durable and resistant.
2. Keyed Lock
A keyed lock is super helpful because you have access through the sliding glass door from inside and outside. This type of lock includes many other categories on its own, like the thumb set or mortise set.
You must install it into the knock-out hole, which may or may not come already drilled on the sliding glass door. Before buying, you must check whether your door has it.
The Prime-Line C1033 is one of the most functional keyed locksets currently available. All the parts feature a diecast construction and a black finish that looks incredible. This flush-mounted handle set has a hook style and a non-handed design, meaning that left and right-handed patio doors are compatible with it.
3. Offset Thumb Lock
This type of lock is simple but effective. Usually, the offset thumb lock goes into the sliding doors and works from the inside. Using this lock is also a breeze, as you have to twist the small nob with the thumb, and that's it. The door will remain locked.
The downside of an offset thumb lock is that it isn't as secure as the other locks. Ideally, you may want to use this type of lock inside the house and for privacy purposes.
If you want to try one, check the Prime-Line C1016. This diecast lock has a gorgeous aluminium and wood finish that blends with the decoration with ease. The product has a steel hook and a universal design to replace most surface latch sets, fitting almost any sliding glass door style.
4. Mortise & Hook Sliding Door Lock
This type of lock goes into the sliding glass door's panel, and it consists of three parts: the handle, thumb latch, and the mortise lock body. These handles may feature steel, wood, or plastic materials and are similar to an offset thumb lock.
Both works with a knob, but the mortise and hook lock are not integrated into the handle. Therefore, this lock type is less likely to suffer issues due to a damaged or jammed handle.
The way this type of lock works is simple. When you pull or turn the thumb latch, the hook's position changes to let the door open. Pulling or turning the thumb latch in the opposite direction closes the door.
Most mortise locks work without a key, meaning you can't lock your sliding glass door from the outside. However, it's possible to modify the locks to make them work with a key. This procedure is a bit tricky, but experienced DIYers can pull it off.
Our recommended mortise-style lock is the Prime-Line C1225.
5. Spring Loaded Sliding Patio Door Lock
Here's another popular lock due to its simplicity and effectiveness. You can install it at the top or bottom of the sliding glass door, with the larger piece connected to the door panel and the plate attached to the door frame.
Pulling it allows the spring to load into the slot to secure a tight fit. This type of lock requires drilling, but the process is easy for DIYers.
The HauSun Foot Lock is one of the best in this category. This mechanism has double lock action, making it impossible to lift the door out of its tracks. We also liked that this lock keeps the door completely closed or partially opened, providing some customization depending on the circumstances.
A negative aspect of these locks is that anyone can open them from the inside, including children. It could be dangerous if the little ones unlock the door and feel curious enough to head outside.
Some variations of the spring-loaded patio lock have key compatibility, which is better if you want to keep children behind the patio door. Keyed spring-loaded locks may also give you the option to install them on the outside.
6. Sliding Door Loop Lock
A loop lock is an aftermarket type of lock that you can install at the top of the door from the inside. One side goes on the frame, and the other side attaches to the sliding glass door.
This lock also works with double doors if you want to connect the two. In that case, you must lift up and slide the larger loop into the receiver. Unlocking the lock is as easy as pulling it up and then out.
The downside to this lock is that it doesn't work with a key, and there's no way to use it from the outside.
Our top choice for this type of lock is the Harry Engert SDL Door Latch. This lock has a zinc diecast mounting plate that is sturdy and solid. Plus, the design of the latch allows you to mount it anywhere along the length of the frame.
7. Track Lock
The track lock is the perfect solution if you don't want to spend hours drilling holes for a lock. Installing this lock is as easy as attaching it to the sliding door rail to act as a barrier that will prevent door movement. Additionally, this mechanism allows you to lock the door entirely closed or just partially.
However, this type of lock is not as safe as the others. We recommend installing one track lock at the bottom rail and another one on the upper rail if you need more protection. This combination will create a tougher mechanism that will resist more force and pressure.
8. Window Locks
The name suggests these locks are for windows, but they also works sliding door locks. A window lock goes directly on the sliding section of the door, which allows it to stop the door movement while active. This mechanism is effective if you want to keep the door from opening past a certain point.
A window lock is a good babyproof sliding glass door lock. The knobs clamp into place tightly, and the elevated height will keep the lock safe from the child's reach. Plus, the window lock is often unexpansive, meaning every budget can afford it.
9. Door Lock Pin
This type of lock consists of a small but long pin that you chain to the sliding door. Usually, you have to slip the pin into the holder, which goes on the wall right next to the sliding door. Opening the door is also a breeze, as you only have to pull the pinout of the holder.
There's also a small holder for the pin after you unlock the door to keep it restrained and under control. Otherwise, the chain would swing around and hit the glass door repeatedly.
Installing door lock pins is an easy task for DIYers. Depending on the lock model, the procedure may require drilling, but it doesn't take more than 15 minutes. Choose a lock model that matches your door style, and you'll get the job done quickly.
Unfortunately, the design of this lock means that you can only use it from inside the house.
10. Sliding Door Barricade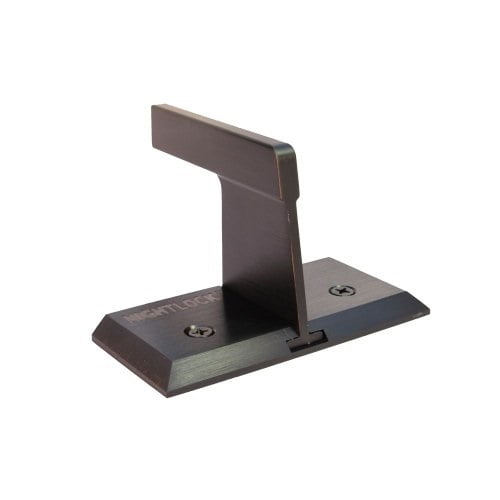 A sliding door barricade is one of the most effective mechanisms to keep a sliding door shut tight. This type of lock uses the floor's sturdiness to keep the panels from moving, effectively keeping anyone in or out of the house.
These "locks" are not as popular as the rest, but they're still a worthy choice if you feel the house needs more protection. A sliding door barricade has a base plate that you anchor to the floor via the included screws.
There's a bit of drilling required for this task, so make sure to have your power drill and screwdrivers ready. Overall, the installation takes about half an hour.
After installing the barricade, slide the lock rail toward the door to secure your sliding glass door panel.
The disadvantage to this locking mechanism is that it only works with doors that have sliding panels on the inside track.
11. Smart Locks
A smart lock is among the most expensive lock type for home security, but it's the ultimate solution if you want the door to open automatically for kids or pets. Not many companies offer smart locks, with Auto slide being one of the few that do.
This manufacturer specializes in creating sliding door and window devices. Currently, two of the most satisfying products from this brand are the basic automatic sliding door kit and the MultiDrive System with smart home integration.
We particularly liked the MultiDrive System due to its convenient features. For instance, it's possible to lock and unlock the door remotely using a Smartphone app. This function allows you to control the door's access from the comfort of your couch.
The price of a smart lock is already high, but we feel that the installation is the real problem. These systems are not easy to mount. There's a lot of drilling and wiring, which is high-level DIY work. Better to leave it to a professional.
12. Surface-Mounted Hook Bolt
This category includes many lock models that differentiate from one another. Still, traditional surface-mounted hook bolts work over or under the existing lock, and they're compatible with almost every standard sliding door.
The surface-mounted hook bolt is an auxiliary bolt that works from inside and outside the house. There's an exterior panel featuring a keypad to enter a pre-established password, which will open the door.
This design makes this lock type a modern security measure if you need a keyless device to open the sliding door from the outside.
This type of lock looks like a smart lock, but they're not the same thing. A smart lock has Wi-Fi and Bluetooth functions, which the surface-mounted hook bolt doesn't.
13. Security Bar
The security bar is not a door lock per se, but it serves pretty much the same purpose. This locking method comes in handy if you need to keep the door closed for a few hours instead of a 24/7 schedule. Using this item is a breeze, as you only have to place it between the sliding door gap while closed.
Ideally, you may want to use a security bar to back up another locking device already in place. Using the two combined will keep intruders out even if they try to force the door's lock by picking it.
A security bar is useful for keeping intruders or animals, and it also works as a childproofing mechanism to keep babies and toddlers safe in the house.
The security bar is often the last resource people use. It's better to use this item if you feel there are unwanted visitors in the proximity.
14. Electromagnetic Lock
We left this one for the end because installing an electromagnetic lock is troublesome. Since these locks are not exclusive to sliding glass doors, there's a lot of work you have to do to adapt them to your door. However, if you want an affordable alternative to smart locks, then this one is for you.
The electromagnetic lock has two main parts: one that goes on the door frame and another mounted on the sliding door panel. Surface-mounted shear magnetic locks average a holding force of 1,000 and 3,000 lbs, and they're some of the best within this category. Choosing one or the other will depend entirely on the amount of security you feel the household needs.
This type of lock is difficult to install, and it won't work if there's a power outage. Therefore, you should also consider this locking mechanism as one of the last resources to try.
Wrapping Up
After learning about the different types of sliding glass door locks, now it's your turn to decide which one to get. Keep in mind that some may be easier to install than others, meaning your DIY experience also comes into play.
Double bolt and keyed locks are the most common, but smart locks are also good if you're a fan of technology.
You may also want to try using a combination of two lock styles. For instance, a mortise-style lock with a secondary lock provides excellent protection.
Lastly, choose one lock suitable for your door and your budget.